DECEMBER 23, 2022
A Collective Christmas Special: How Dominique Cojuangco Spends Her Holidays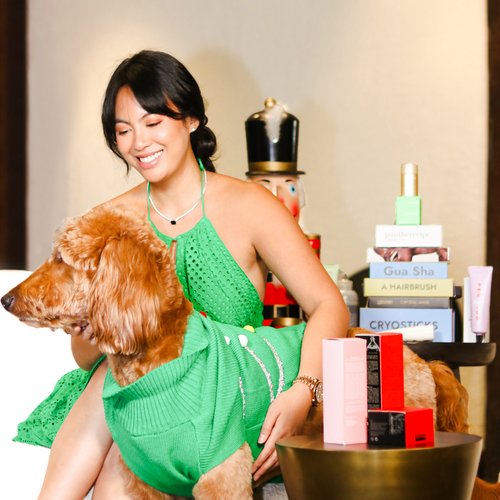 Reading Time: 3 minutes
Christmas Celebrations and Traditions
The most important thing about Christmas for Dominique Cojuangco is giving back and spending time with her family.
"My parents and I celebrate with our loved ones on Christmas Eve, getting dressed up to host our annual family dinner. On Christmas day, we have a day of self-care – sleeping in, staying in PJs, and cooking together," she shares. "My parents always have phases of either spending it in the Philippines or the U.S., but both equally put me in the holiday spirit."
One of her yearly highlights is having cozy Christmas days. "PJs all day on the 25th! Nothing feels better than showering just to put on a fresh pair of PJs and then opening presents with my family," Dominique continues.
"This year, I'm looking forward to spending time with mine and Michael's family together."
Holiday Self-Care Routine
According to Dominique, the holidays always make her want to do a full-on routine. Her 5-step holiday skincare routine is as follows: 1) Faace Dirty Face Cleanser, 2) Pestlo Seed Real Collagen Mask, 3) Goto Beauty Balancing and Hydrating Toner, 4) Alder New York Everyday Face Serum, and 5) Pestlo Saferecipe Sun Essence.
On getting ready before a night of festivities, she says: "I prep my hair with Firsthand Supply's Shampoo and Conditioner with Naturally Drenched's Rebalance Treatment in between. I typically opt for a full body dry brush, then go in with the Body Cleanser to feel refreshed and make my bathroom smell like a spa."
A Collective Christmas Q&A 
Get to know more about Dominique's Christmas favorites:
Whether you spend it in your PJs or get ready for a night of festivities, Christmas is always more meaningful when you spend it with your loved ones. What do you love most about Christmas?