NOVEMBER 09, 2022
45 Billion Period Products are Thrown Away Every Year. Here's How You Can Help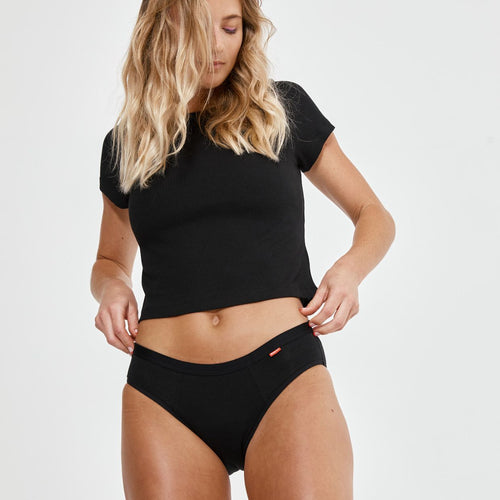 Reading Time: 2 minutes
Period care products have evolved over a couple of centuries. In the past, tampons, pads, and pantyliners were not a thing. Menstrual products were homemade by sewing together woven fabric into underwear with a makeshift immovable pad. Since then, period care products have been elevated, making them simpler and quicker to use.
What is Period Underwear?
Period underwear is what it sounds like–an undergarment you use during your period without using disposable products like pads or tampons. They are undies with added absorbent layers. Scarlet's
Everyday Bikini Brief
is washable, reusable, and gives ultimate comfort! Every period underwear they make has organic cotton keeping your skin rash-free.
Period Underwear: A More Sustainable Choice
Over 45 billion menstrual products are thrown out around the world annually. When they break down, they turn into microplastics that pollute our oceans and beaches and contaminate our water supply. When period underwear is cared for and washed properly, it can be reused for a few years and save the environment with tons of disposable period products.
Every pair of the Everyday Bikini Brief has Scarlet's signature innovative technology for ultimate protection. Their breathable products have a mix of high-performance functional fabrics (including recycled polyester and 100% GOTS-certified organic cotton) specially engineered for the best absorption and keeping you feeling dry and comfortable for longer. They're healthy for you, the planet, and your pocket!
How to Care for Your Period Underwear
Taking care of your period undies is as easy as putting them in the wash without softener or bleach, then hanging dry or tumbling dry on cool like regular underwear. If you have a heavy flow and worrying about staining, give your undies a quick rinse under cool water until it runs clear before popping them in the washing machine.